I created computer animations for PING Golf to be used in the NBC network broadcast of "The Golf Digest Equipment Special." It was televised before the broadcast of the Arnold Palmer Invitational in March.
These computer animations were the culmination of a year's time which I began by developing a print illustration style for this year's golf club catalog. The proposed illustration style was so well-received that it was decided that, for the first time ever, the hero photography would be replaced by my illustrations. The style relied on the technical line art that already exists in the engineer's 3D CAD model. I devised a method to translate the engineer's detailed CAD model into a file format that can be imported into my high-end 3D rendering program, Cinema 4D. This saved the time it would take to create a 3D model of the golf club entirely from scratch in Cinema 4D and allowed greater control over animation, lighting, texturing, and rendering in Cinema 4D.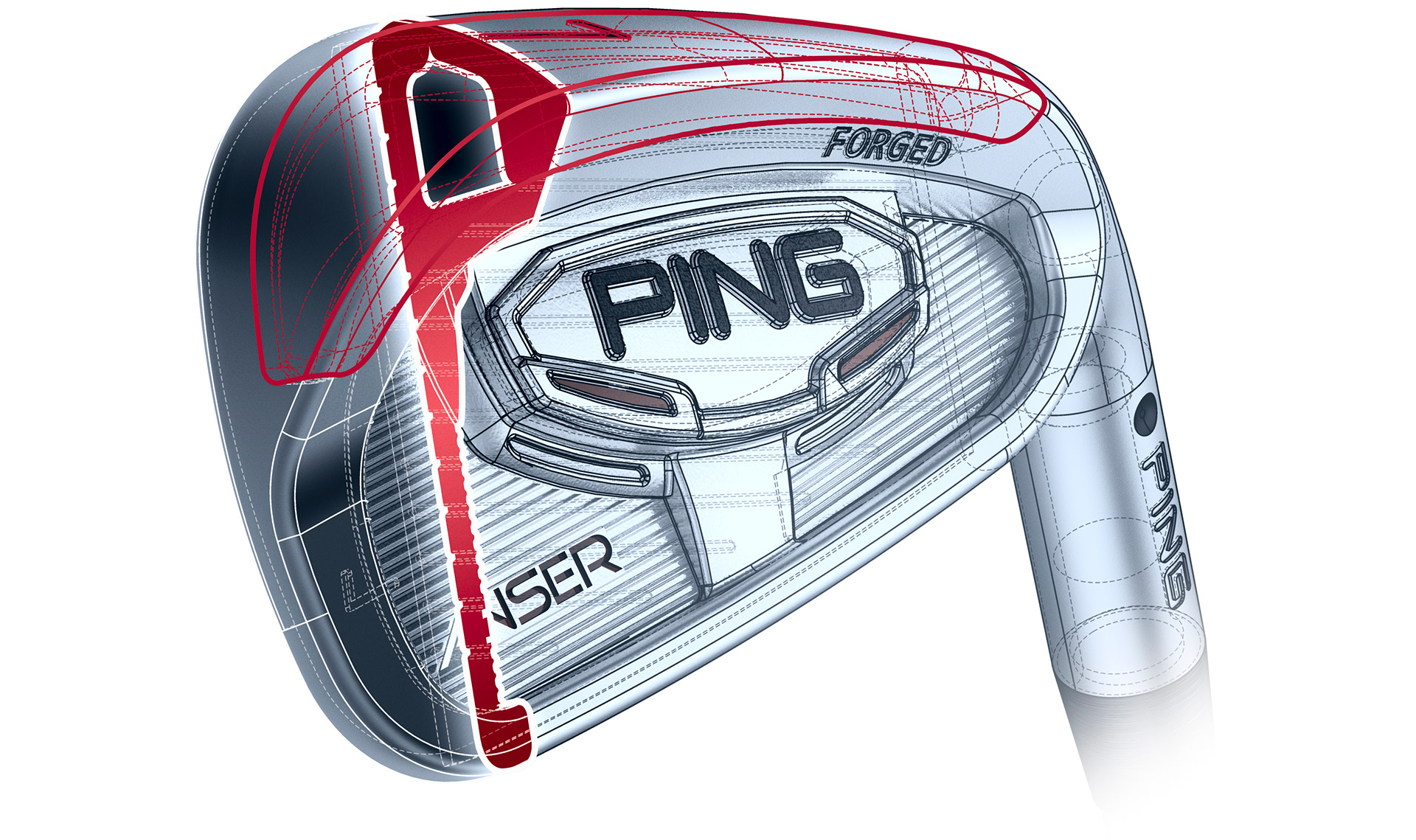 This year's illustration style consists of a line art layer overlaying a realistic rendering of the golf club with specific features highlighted in red with white line art. All of this artwork is rendered from Cinema 4D as separate files. Cinema 4D can recognize the original lines created by the engineer as they constructed the 3D CAD model. It not only renders the lines that are visible from a specific angle, but also can render the lines that are on the other side of the club or on the inside of the club. The result is a crisp, technical drawing where hidden details about the inside of the club are revealed.
For the print illustrations, I layered the line art and realistic renderings in Photoshop using masks that were also rendered from Cinema 4D. To create computer animations, I simply switched from Photoshop to After Effects. Oh, and 900 individual frames at high-definition video resolution had to be rendered out for each layer of the computer animation!
After the art director and I discussed which features of the golf club were to be highlighted and what camera angles would best show those features, I animated the camera moving around the golf club pausing at the selected angles. I rendered a rough animation video with simple lighting and textures for the client to review the motion of the animation.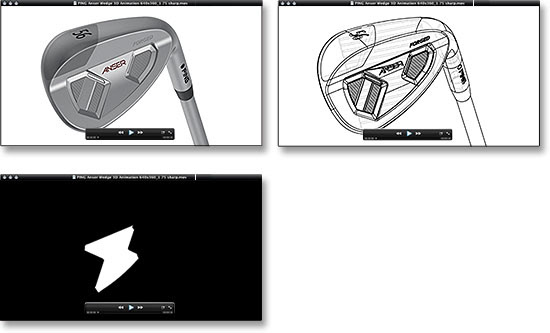 Once the rough animation video was approved, I rendered the final high resolution video files of the golf club from Cinema 4D that I would need in Adobe After Effects to create the final video: A realistically rendered video, a technical line art drawing video, and one or more alpha channel videos.
After importing the videos into Adobe After Effects, I applied the illustration style by adjusting the color of the realistic and line art videos and then using the alpha channel videos to create the red-highlighted features.